Skip to content Designer. Art Director. Creative Strategist.
Rocky View Brewing Company
The Client
Rocky View Brewing Company is a microbrewery located in the Alberta foothills.
The brewery was established in 2016 out of a passion for crafting great-tasting beer, one small batch at a time. Brewmaster and co-founder Lyle Thorsen has expanded into a commercial-scale operation and a Cochrane Taproom to share his brews with others who also enjoy drinking fresh and flavourful local beer.
Rocky View is "Good Beer for/from Good Folks."
The Work
Responsibilities
The Work
Over the course of my years with this client, we've developed everything from bottle and can labels and packaging, a full series of premium Core Brews, a limited-edition Adventure Series, seasonal brews and community collaborations (with the Cochrane Generals hockey team, a local wolf sanctuary, and provincial agricultural societies), T-shirts, signage, sales and marketing materials, coasters, menus, banners, umbrellas and more.
Responsibilities
Original Bottle and Can Labels
When Rocky View started operations from an outbuilding on the Thorsen's acreage, the bottling and labelling was done manually into large 650mL brown bottles, and the alcohol content for each batch varied slightly, so had to be hand-written by sharpies onto each label to comply with regulations. In the spirit of "if you can't beat 'em, join 'em…" the design of each label incorporated other handwritten-style elements, including Lyle's own signature at the end of the brand story, to play up that hand-crafted, folksy vibe. This label series also included a blank label to accommodate a rotation of experimental seasonal brews.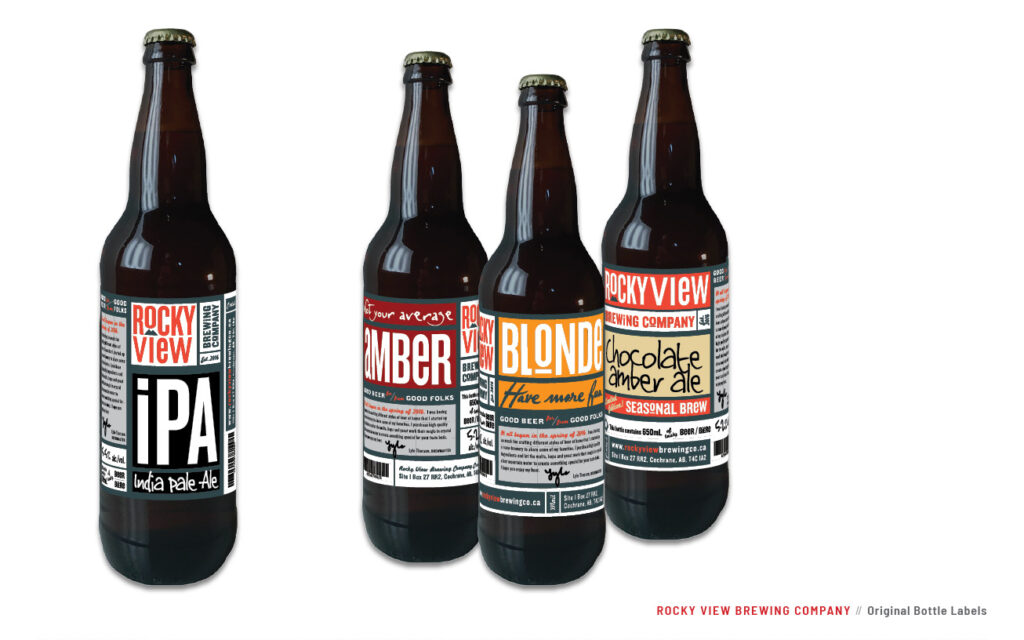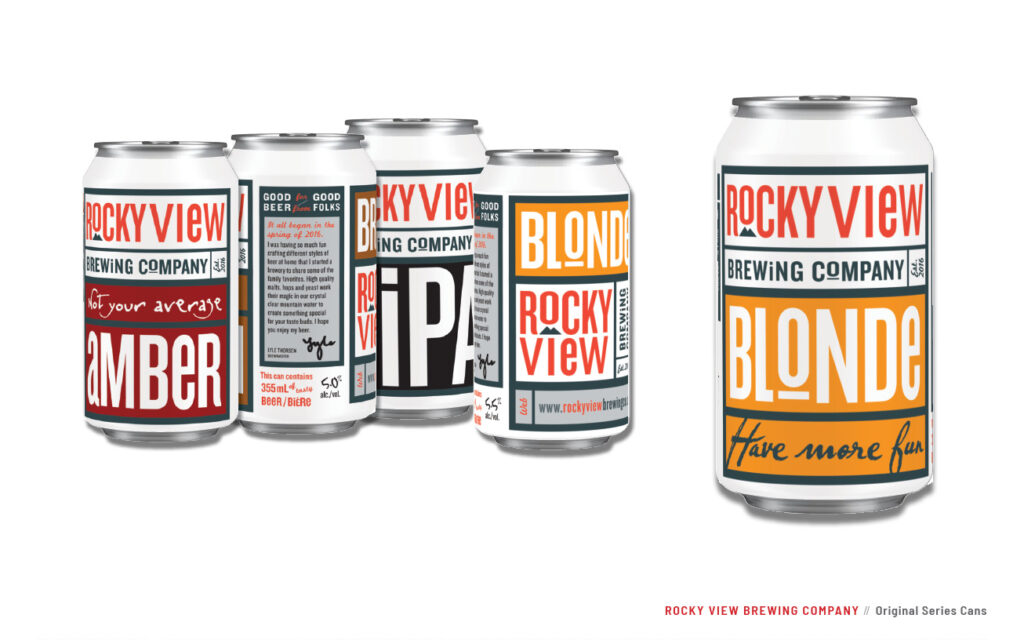 Premium Core Brews
Initially developed for the Japanese craft import market, the original 355mL core series was expanded into six premium core brews in tallboy 473mL cans. Unique geometric patterns run subtly throughout the label of each beer. Rocky View area-themed elements (wheat, maple leaves, pinecones, evergreens, etc) are harnessed from within each background pattern and highlighted with translucent bright colours utilizing the shimmer of the can below. Matte and gloss varnishes highlight the brand, the brew, and the geometric symbol for each beer. These brews are packaged in single-variety cartons as well as multi-brew mixer packs.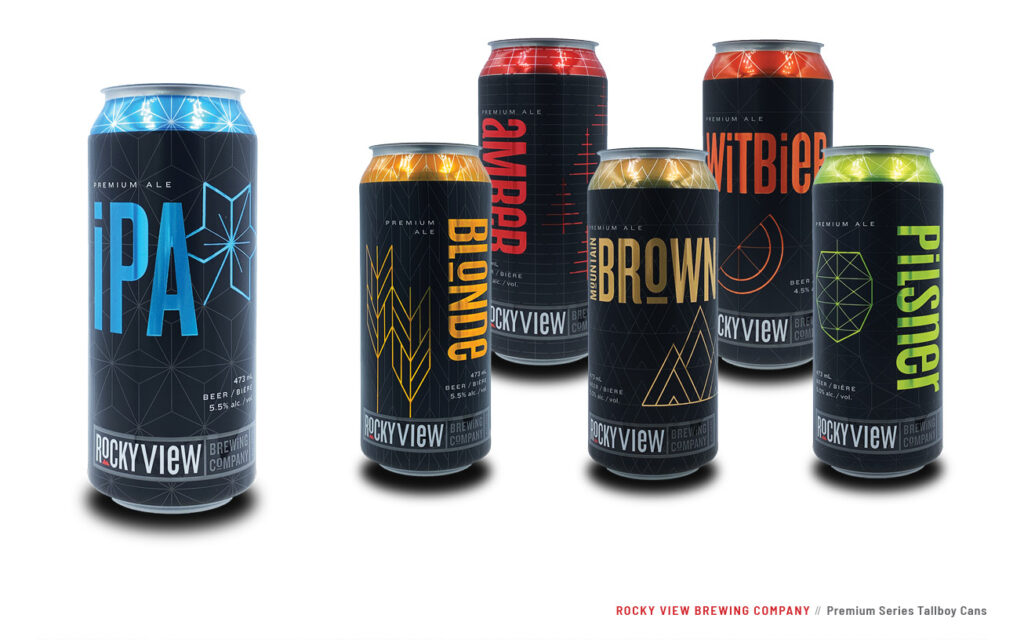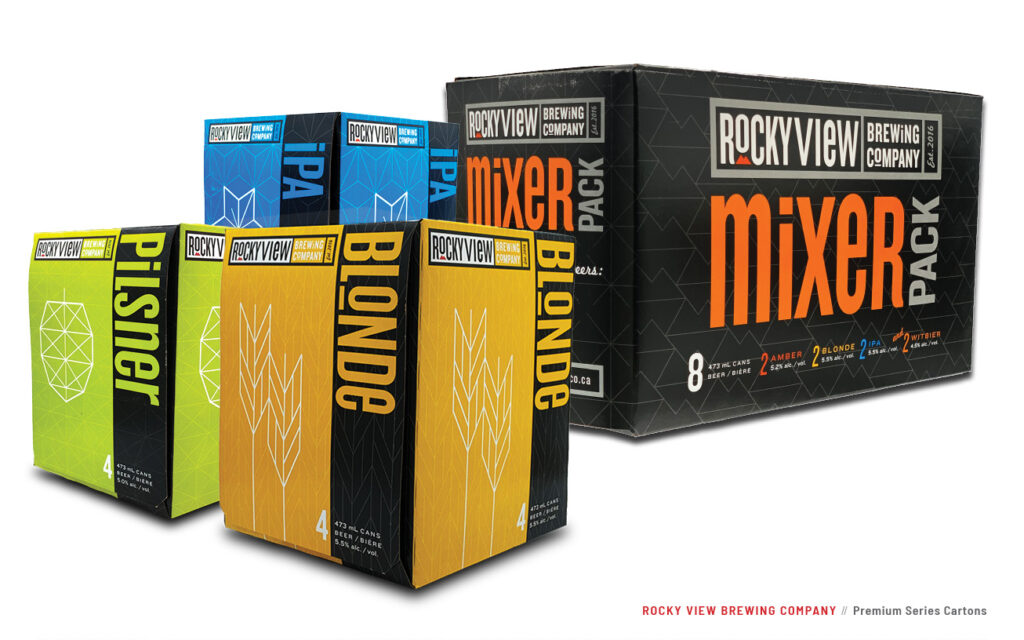 Limited Editions & Local Collaborations
One of the benefits of being a small, agile brewery is that Rocky View is able to create limited edition and seasonal brews, such the Adventure Series, which is positioned towards adventure-seekers looking for unique local craft beer. This series highlights local landmarks such as Mount Lorette, Powderface Ridge, and Larch Valley.
Rocky View is also engaged with local organizations, such as the Cochrane Generals hockey team, Yamnuska Wolfdog Sanctuary, and a local agricultural society, and portions of the revenue from each sale is donated back to the aligned organization.